Filter by Category
Advanced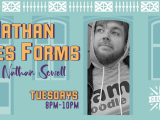 Nathan Takes Forms
with Nathan Sowell

Mar 21, 2023 at 8 pm

, runs for 4 weeks
Unlock your creativity and tap into your spontaneous side with Nathan Sowell's unique formats workshop! Are you tired of feeling stuck in your scenes, or finding yourself lost in your thoughts? Nathan understands the struggle and wants to help you break free from these common improv traps. As a dedicated improv teacher and coach, Nathan has curated a workshop that focuses on three unique formats – Screw Puppies, The Bruise, French Braid, that you won't find in traditional Austin improv classes. Designed to prioritize the players and their individual strengths, these formats will help you stay present, focused, and most importantly, have fun!
In this workshop, you will get to experience three unique formats and choose one to explore in greater depth. Whether you're a seasoned performer or a complete beginner, Nathan's workshop is the perfect place to expand your improv horizons and take your skills to the next level.
NATHAN SOWELL has been improvising for more than a decade and teaching almost as long. He has studied at iO Chicago, The Annoyance Theater, ColdTowne Conservatory, and The Hideout which has provided him a well rounded improv education. Nathan is a beloved improv Teacher in the Austin Improv Community and has multiple teaching and coaching awards to back that claim up. You may have seen him in award winning ensembles such as Dinner for Six, Angola, and My Own Worst Enemy. He regularly plays with ColdTowne House Troupes Friends for Now and Kinkade.
Full Course
Improv Diagnostics
with Asaf Ronen

Apr 18, 2023 at 8 pm

, runs for 4 weeks
No lesson plans. Just a steady stream of scenework to help you pinpoint your individual tendencies. Find out what your strengths are and where you could explore further. Working in a non-stop series of improv reps, you'll learn what your patterns are and how to break them through personalized challenges. Maximized stage time guaranteed. Great for beginners who want to develop new skills and for professionals who want to keep fresh.
ASAF RONEN is the author of Directing Improv: Show the Way By Getting Out of the Way. He regularly performs, teaches and produces in Austin, was Education Director at The Institution Theater for eight years and is currently the Conservatory Director at ColdTowne Theater. He is also a Producer and Education Director of Austin's annual Out of Bounds Comedy Festival. He has taught and performed improvisation in Canada, Great Britain, Norway and in twenty-eight of these United States with such groups as the B. Iden Payne Award winning Confidence Men (improvised plays in the style of David Mamet) and imp (mostly silent improv). He was also producer on TRUST US, THIS IS ALL MADE UP, a documentary on legendary improvisers TJ & Dave that premiered at Austin's South by Southwest Festival in 2009 and helped develop the improvised film Days of Delusion with director Scott Myers. In 1999, Asaf founded the improv website, YESand.com of which he is Editor-in-Chief.
Payment plan available: $50 deposit plus 1 payment of $70.00, paid every two weeks.
Clown Class
with Alex Jones-Trujillo

May 6, 2023 at 3 pm

, runs for 1 week
Trying to be funny. Ugh. So hard to do and so tough to watch. Once you're trying to be funny you're doomed. The audience can sniff it on you. Whether they can articulate it or not, they just can't let go and enjoy what you're doing. In this intro level class we'll endeavor to be honest, to be present and to be real. We'll play fun little games, do solo explorations, and possibly get into some more gutsy forms of play. Alec Jones-Trujillo will be drawing upon over 20 years of experience doing stand up, improv and clown. So expect exercise based on improv and clown (wanna do stand up? Go to an open mic.)
Old God is Alec Jones-Trujillo. Since 2018 he has been performing in the Las Vegas hit show "Absinthe" at Caesar's Palace where plays the foul-mouthed host/comedian The Gazillionaire. In that time he has performed over 1200 shows at Absinthe and will likely do 1200 more seeing as the show is highly improvised and different every time. While living in San Francisco for many years he studied clown by day and did stand up by night. He graduated the Clown Conservatory at SF Circus Center and moved on to study mime with Leonard Pitt and James Donlon five days a week at the Flying Actor Studio. He has worked with Cirque Du Soleil's John Gilkey on multiple projects including We Are Nudes, Wet The Hippo and The Murge. In Los Angeles he studied improv at Groundlings and UCB. Old God contains everything Alec has ever done--mime, improv, stand up, clown--all in the name of wild and inspired comedy.
Payment plan available: $50 deposit plus 1 payment of $50.00, paid every four weeks.