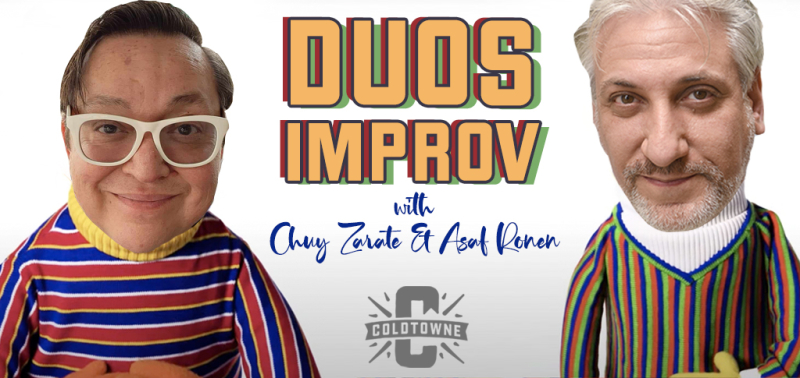 Duos Improv
with Chuy Zarate & Asaf Ronen
$22500
This class is for pairs of improvisers who are already performing as a duo, or would like to. (We'll have a Duos Class in January for those looking to be matched up into Duos.)
Team-taught by two of Austin's most prolific improvisers, you'll learn how to build a two-person set that spotlights you both and explores beyond what you thought possible. Learn to develop rhythms, formats and techniques that you can apply for the entire lifespan of your partnership. By the end of this class, you should be so in sync with your partner that your scenes will flow like water.
6 WEEKS, October 7 - November 18 (no class on Nov 11th)
Showcase on Sunday, November 19 @ 6:30
NOTE: THE $225 COST OF THE CLASS IS PER PERSON.YOU WILL NEED TO REGISTER BOTH IMPROVISERS.
ESTEVAN J. (CHUY) ZARATE is an actor/director/coach from San Antonio TX that has been improvising for audiences for 33 years. He is a member of The Big Bash at The Hideout Theatre, The Known Wizards (Merlinworks faculty troupe), Stool Pigeon at ColdTowne and more duos than he can count. He teaches all styles and formats being that he has a very eclectic tool belt to reach into. If there is a scenario to be performed in, he has probably performed it. With specialties in improv singing and grounded/character-driven scenework, Chuy has coached hundreds of kids, teens, students and adults for years to multiple successes.
ASAF RONEN is the author of Directing Improv: Show the Way By Getting Out of the Way. He regularly performs, teaches and produces in Austin, was Education Director at The Institution Theater for eight years and is currently the Conservatory Director at ColdTowne Theater. He is also a Producer and Education Director of Austin's annual Out of Bounds Comedy Festival. He has taught and performed improvisation in Canada, Great Britain, Norway and in twenty-eight of these United States with such groups as the B. Iden Payne Award winning Confidence Men (improvised plays in the style of David Mamet) and imp (mostly silent improv). He was also producer on TRUST US, THIS IS ALL MADE UP, a documentary on legendary improvisers TJ & Dave that premiered at Austin's South by Southwest Festival in 2009 and helped develop the improvised film Days of Delusion with director Scott Myers. In 1999, Asaf founded the improv website, YESand.com of which he is Editor-in-Chief.
Payment plan available: $50 deposit plus 2 payments of $87.50, paid weekly.
Oct

7

-

Nov

18th

,

2023

Sat

for

6 weeks

from

10:00 am - 12:30 pm
ColdTowne Theater
9179518728
1700 East 2nd Street
Austin, TX 78702 Get directions